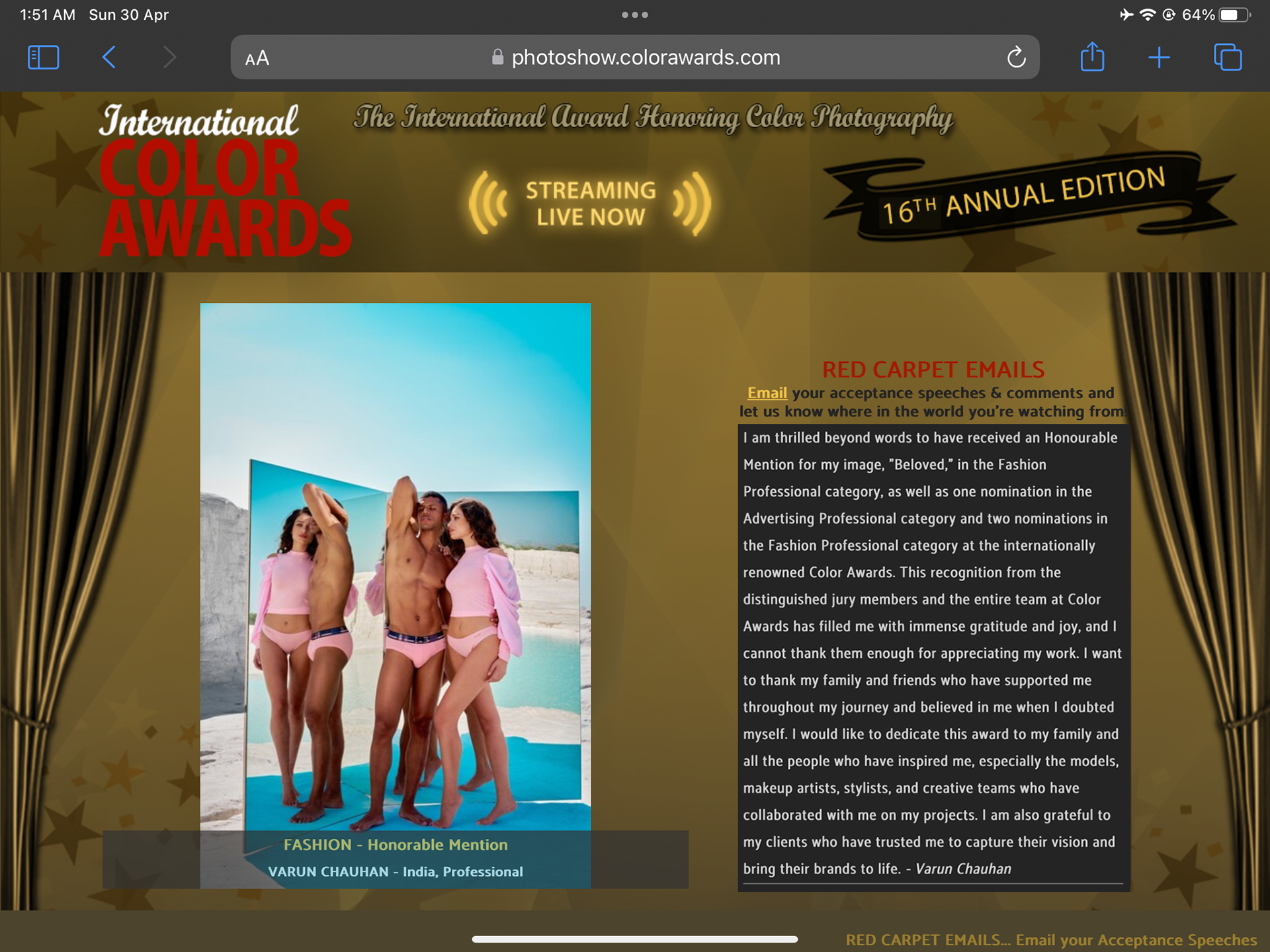 Varun Chauhan, a renowned fashion and advertising photographer, was born on July 26, 1982, in New Delhi. He is known for his exceptional skills in creating visually stunning images that capture the essence of the brands he works with. Apart from his successful career as a photographer, Varun is also an accomplished ad-film director.
Varun's unique approach to photography enables him to create captivating images that evoke emotions and leave a lasting impression on viewers. He has mastered the art of blending lighting, composition, and storytelling to produce photographs that are not only visually appealing but also communicate a message. His passion for his craft and dedication to producing outstanding works have earned him the respect and admiration of his peers in the industry.
Varun Chauhan is acknowledged for his exceptional ability to create stunning images that perfectly capture the essence of renowned brands. He has worked with an impressive array of clients including Pepsicavo, Kiko Milano, Vodafone, LG Electronics, Hero Motor Corp, Perfetti Van Melle, GSK, Vajor, Bewitch Lingerie, Horlicks, Shree Raj Mahal Jewellers, GS Paris Beauty, Dream Diamonds, ShalkyQQ, Juice Salon, La Solitaire Jewels, Iris Watches, Bodycare Lingerie, BodyX Men & Women Innerwears, Sunar Jewels, Wedding Asia, Dalmia Bharat, Lays, Doritos, and many more. His expertise in fashion and advertising photography enables him to deliver visually compelling content that perfectly captures the spirit of each brand and its products, solidifying his status as one of the industry's most sought-after photographers.
Varun Chauhan is a celebrated Indian fashion and advertising photographer who has had the privilege of collaborating with an extensive roster of international male and female models from all corners of the globe, as well as prominent figures from India such as Ustad Amjad Ali Khan, Shabana Azmi, Virat Kohli, Amy Jackson, Kiara Advani, and many others. His impressive body of work with these models and personalities has been featured in a range of advertising campaigns and editorials that have appeared in renowned publications like Vogue India, FHM India, GQ India, Men's Health, Harper's Bazaar, Marie Claire, ELLE, Cosmopolitan, and numerous billboards across the country.
In addition to his work with models and personalities, Varun Chauhan's photographs have also graced the front pages of leading newspapers such as Times of India, Hindustan Times, and others. His work has also been prominently displayed on numerous large hoardings and billboards across the country, solidifying his status as one of India's most sought-after photographers in the fashion and advertising industry.
Varun's achievements in photography and film direction have made him a highly sought-after professional in the advertising industry. His impressive portfolio and his ability to consistently deliver outstanding works have made him an invaluable asset to his clients. As he continues to push the boundaries of his craft, Varun's contributions to the advertising industry will undoubtedly leave a lasting legacy.
His interview was published by Times of India for his splendid photography work - "The shining star of photography"
His pictures from Sunar Jewels Print Campaign along with his interview was featured by Nikon India.
Nikon India Instagram Link :
In 2009, Varun Chauhan started working as a freelancer.
In 2014, Varun Chauhan started his own production house by the name of Paper Plane Creatives. 
In 2018, Varun Chauhan debuted as an Ad film director for a number of TVCs and is continuing to work as a Photographer and Director on various projects.
In 2019, Varun Chauhan was seen on India's first reality cum modelling hunt MTV show - Mr & Miss 7 States,  as a celebrity & official fashion photographer where he was seen photographing the contestants while judging for the Mr & Miss Photogenic Title. The show was broadcasted on MTV India & MTV Beats.
Mr. & Miss. 7 States is currently steaming on MX PLAYER, HUNGAMA PLAY, AIRTEL XSTREAM & Vi MOVIES TV
In 2022, Varun Chauhan won a nomination in one of the the most prestigious Spider Black and White awards in Fashion Category(Professional) in the 17th Annual Spider Black & White award in Fashion Category (Professional)
Celebrating its 17th year, BLACK & WHITE SPIDER AWARDS is the leading international award honouring black and white photography. This celebrated event shines a spotlight on the best professional and amateur photographers in a prestigious annual competition and globally webcast photo show.
THE JURY : For seventeen years Black & White Spider Awards has been committed to bringing you world-class Juries selected from the most influential names in the industry. Annually a new jury pool is created to ensure the program's reputation for recognizing first-movers, new emerging talent and current trends across the industry. Jury members are selected by exclusive invitation to join the international panel and sent ballots to log on, review the entries and nominate their selections. Only by having the greatest talent from both sides of the lens do we produce the intoxicating and diverse photography collections the awards is renowned for showcasing.
16TH ANNUAL INTERNATIONAL COLOR AWARDS HONORS PHOTOGRAPHER VARUN CHAUHAN FROM INDIA 

LOS ANGELES APRIL 29, 2023 - Professional photographer Varun Chauhan of India was presented with the 16th Annual International Color Awards Honourable Mention in the category of Fashion at a prestigious Winners & Nominee Photoshow streamed Saturday, April 29, 2023. 

The live online gala was attended by industry leaders and the photography community from around the globe who logged on to watch the climax of the world's premier event for color photography. 16th Annual Jury members included captains of the industry from The National Gallery of Art, Washington DC; The J. Paul Getty Museum, Los Angeles; The Art Channel, London; Groninger Museum, Netherlands; Koller Auctions, Zurich; Preus Museum, Norway; Throckmorton Fine Art Gallery, New York; Publicis Groupe, Warsaw; Chung 24 Gallery, San Francisco; Kolle Rebbe, Hamburg; Photo-Eye Gallery, Santa Fe; High Museum of Art, Atlanta; Bonhams Cornette de Saint Cyr Auctions, Brussels; Institute of Contemporary Art (ICA), Philadelphia; William Shearburn Gallery, Saint Louis; Museo d'arte Moderna di Bologna (MAMbo), Bologna; and Clamp, New York who honored Color Masters with 608 coveted title awards and 916 nominees in 37 categories. 

"It was a real pleasure to participate on the jury of the 16th International Color Awards. These occasions are precious for getting to know new artists and understanding where the contemporary taste is leading, with themes that interest, fascinate and capture the collective gaze." Said Juror Lorenzo Balbi, Director of Museo d'Arte Moderna di Bologna (MAMbo). 

"It is an incredible achievement to be selected as the best from the 6,573 entries we received this year," said Basil O'Brien, the awards Creative Director. "Varun Chauhan's "Beloved," an exceptional image entered in the Fashion category, represents contemporary color photography at its finest, and we're pleased to present him with the title of Honourable Mention." 
INTERNATIONAL COLOR AWARDS is the leading international award honoring excellence in color photography. This celebrated event shines a spotlight on the best professional and amateur photographers worldwide and honors the finest images with the highest achievements in color photography. www.colorawards.com
Varun Chauhan won an Honourable Mention in the Fashion Professional category at the prestigious International Color Awards, 16th Annual Edition. As the only Indian photographer among the winners from around the world, this recognition serves as a testament to his exceptional talent and unwavering dedication to the craft. Along with this award, Varun received one nomination in the Advertising Professional category and two nominations in the Fashion Professional category. This achievement adds to his growing list of accolades and solidifies his position as one of the most promising photographers of his generation. Varun credits his family, friends, and collaborators for their unwavering support, and he dedicates this award to them. The recognition from the distinguished jury members and the entire team at Color Awards has inspired Varun to continue pushing the boundaries of his craft and exploring new creative possibilities.
Link to Winner's Gallery :
Honourable Mention in Fashion Category (Professional) 
One Nomination in Advertising Category (Professional)
Behind the scenes - 
Varun Chauhan has had the opportunity to travel to a variety of fascinating destinations around the world, including Canada, Dubai, Hong Kong, Kyrgyzstan, and Thailand, for both work and leisure. His travels have not only provided him with incredible experiences and memories, but also the chance to expand his artistic horizons and gain inspiration for his photography.
Early Life :-
Varun Chauhan was born in New Delhi, India and lived there until he was four years old. Then he moved to Kotlkata with his family, where they lived until he was fifteen, before moving back to New Delhi, where he attended a local public school and completed his high school studies in science. Later after completing his further studies Varun started working in his father's manufacturing unit of iron and steel, gaining valuable experience in the field before he decided to pursue his passion for photography as a profession. In the early days of his photography career, Varun won the ibibo iFashion Photographer contest in collaboration with FTV, beating out more than 4000 photographers from all over India. This win marked the beginning of a successful career in the industry.
Personal Life :-In his leisure time, Varun enjoys spending time with his family in Canada and New Delhi, exercising, motorcycling, gaming, reading, and keeping up with the latest technology in photography, gadgets, and technology. Interviews and articles about Varun's work can be found on various platforms, including :-